Diversity and variability of the diet of Walter duiker's (Philantomba walteri, Bovidae, Colyn,2010) in the forests of Southern Benin
Abstract
Walter's duiker (Philantomba walteri) is endemic to the Dahomey Gap area. Very rare, and very hunted, its diet is very diversified. The objective of this research is to determine the composition of Walter's duiker diet in the forests of southern Benin. Observations using the linear transect method in the natural environment were made. In addition, individual questionnaires were sent to hunters, farmers, and forest agents in villages bordering the forests of southern Benin. Thus, twenty-nine (29) plant species divided into twenty genera and twenty-nine families have been recorded. The most represented family is the Euphorbiaceae with 5 species (Mallotus oppositiliformis, Hymenocardia acida, Manihot esculenta, Alchornea cordifolia). The diet of forest Walter's duiker South Benin is made up of Eight (8) types of plant organs for all 29 plant species consumed. It is mainly dominated by the leaves (29 species, 100%), the bark (72%), the fruits (27%), and the stems (24%) which constitute the most palatable organs. Regarding the chorology of palatable species, taxa from the Guinean-Congolese (GC) regions are the most palatable with a proportion of (20.68%). They are followed by taxa from the Sudano-Zambezi (SZ) and Pantropical (Pan) regions with each a proportion of (13.79%). Walter's duiker eats 58.62% dicot and 41.37% monocot. It, therefore, has a varied diet. It is therefore desirable to deepen research on the diet in order to propose a better habitat restoration method for this species.
References
Boko, M. (1993). Le Bénin. Edition du flamboyant, Cotonou, 95 p.
Colyn, M., Hulselmans, J., Sonet, G., Oudé, P., Winter, J., Natta, A., Nagy, Z., & Verheyen, E. (2010). Discovery of a new duiker species (Bovidae: Cephalophinae) from the Dahomey Gap, West Africa. Zootaxa, 2637, 1-30.
Dagnelie P. (2011). Statistique théorique et appliquée : Inférence statistique à une et à deux dimensions. Tome 2. De Boek, Belgium.
FAO (2010). Prise en compte de la biodiversité dans les concessions forestières d'Afrique centrale. Document de travail sur la biodiversité forestière, n°1. Rome
Fargeot, C (2013). La chasse commerciale en Afrique centrale : une menace pour la biodiversité ou une activité économique durable ? Le cas de la république centrafricaine. Thèse de doctorat : Université Paul Valéry, Montpellier (France).
Giotto, N. (2011). Eco-éthologie et conservation du beira (Dorcatragus megalotis) en république de Djibouti. Thèse de doctorat, Ecologie, Biodiversité et Evolution, Université de Toulouse III.
Grande-Vega, M., Farfán, MA, Ondo, A., & Fa, J. (2016). The decline in hunter offtake of blue duikers in Bioko Island, Equatorial Guinea. Afr. J. Ecol., 54, 49-58.
Houngbégnon, F. (2018). État des connaissances sur les céphalophes (genres Cephalophus et Philantomba) des forêts denses humides d'Afrique centrale (synthèse bibliographique). Biotechnol. Agron. Soc. Environ., 23 (2), 1-21.
INSAE (2013). Recensement Général de la Population et de l'Habitat.
Kidjo, C., Lougbegnon, T., Djossa, B., Oumoroum, Codjia, JC & Sinsin, B. (2011). Caractérisation phyto-écologique de l'habitat du Tragelaphus spekei gratus (Sclater, 1864), sitatunga, dans la partie méridionale du Bénin. Int. J. Biol. Chem. Sci. 5(4): 1603-1618.
Kidjo, C., Djossa, B., Houngbedji, M., Lougbegnon, T., Codjia, JC & Sinsin, B. (2011). Ecologie alimentaire du Sitatunga (Tragelaphus speckei, Sclater, 1864) dans les sites Ramsar du Sud-Bénin. Int. J. Biol. Chem. Sci. 5(2): 603-617.
Kidjo FC (2011). Distribution, Ecologie et Stratégies de Conservation du Sitatunga (Tragelaphus spekei, Sclater, 1864) au SUD-BENIN (Thèse de doctorat. Abomey-Calavi, FLASH – UAC).
Mallon, DP, Hoffmann, M., Grainger, MJ, Hibert, F., van Vliet, N., & McGowan, PJK (2015). Analyse de situation de l'UICN concernant la faune terrestre et d'eau douce en Afrique centrale et de l'Ouest. Document occasionnel de la Commission de la sauvegarde des espèces de l'UICN nº 54. Gland, Suisse et Cambridge, Royaume-Uni : UICN.
Offio, P. (2018). Forêts et communautés : Diversité biologigue au niveau des forêts communautaire de la vallée de Sitatunga. Mémoire de Master, Université d'Abomey-Calavi, Bénin, 75p.
Poulsen, JR, Clark, CJ, Mavah, G. & Elkan, PW (2009). Bushmeat supply and consumption in a tropical logging concession in Northern Congo. Conserv. Biol., 23, 1597-1608.
Sinsin, B. & Kampmann, D. (eds). (2010). Atlas de la Biodiversité de l'Afrique de l'Ouest. Tome I: Bénin, Cotonou & Frankfurt/Main.
Soké, G. (2015). Etude diagnostique du Centre Régional de Recherche et d'Education pour un Développement Intégré et cartographie de la répartition du Philantomba walteri (Bovidae, Colyn) dans la Vallée du Sitatunga. Mémoire de Licence Professionnelle en Sciences Agronomiques, (ENSTA /Kétou).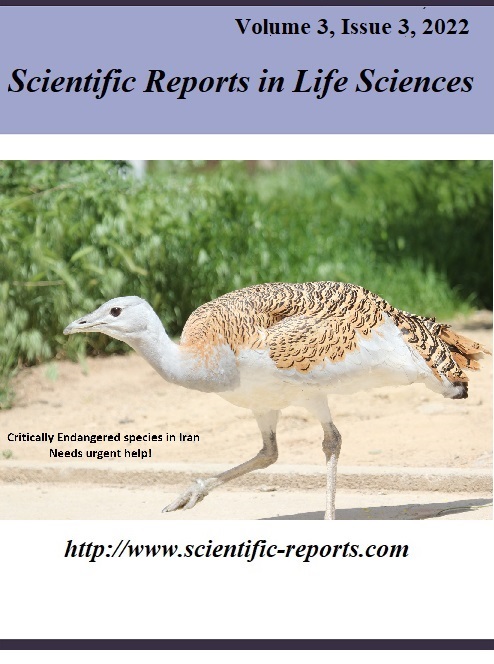 Downloads
How to Cite
DOTCHE, B. I., Nobimè, G., Lougbégnon, O. T., & Tenté, B. (2022). Diversity and variability of the diet of Walter duiker's (Philantomba walteri, Bovidae, Colyn,2010) in the forests of Southern Benin . Scientific Reports in Life Sciences, 3(3), 29–47. https://doi.org/10.5281/zenodo.7083260
License
Copyright (c) 2022 Scientific Reports in Life Sciences
This work is licensed under a Creative Commons Attribution 4.0 International License.